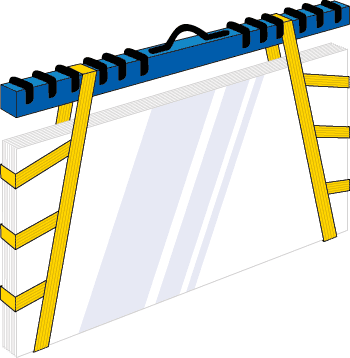 At Cablecraft one of our prized products are our handmade in Canada, custom-designed glass slings. Our glass slings are made of 4″ nylon/polyester lifting sling webbing and are certified to be rated at a 12,000 lbs Safe working load limit.
Glass slings are sold in pairs, one for each side of the glass sheets. The top wear pad is then hooked up to a spreader beam to be lifted to the desired location. Glass slings are one of the most widely used methods to move raw glass because of their secure and stable hold, lightweight, maneuverability, and ease of use.
Custom Made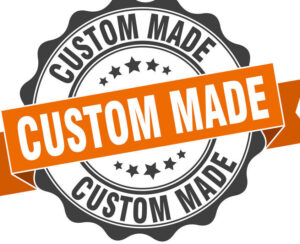 Each of our Glass handling slings are Custom made to our customers' exact specifications. We'll make sure they fit your glass packs like a glove. No matter what sized glass you are working with we can make your glass sling to the exact measurements needed. If you are unsure of what measurements you need for your sized glass we have dedicated staff with decades of experience to help you decide. For your convenience below is a chart that dictates the approximately sized glass sling for each sized glass pack.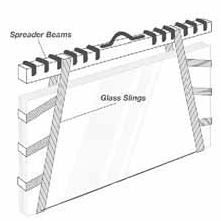 GLASS SLINGS WLL 12,000 LBS.
Approximate Glass sling length per glass pack size
| GLASS PACK INCHES | SLING LENGTH INCHES |
| --- | --- |
| 72 | 99 |
| 78 | 105 |
| 84 | 111 |
| 90 | 117 |
| 96 | 123 |
| 102 | 129 |
| 108 | 135 |
| 114 | 141 |
| 120 | 147 |
| 126 | 153 |
| 132 | 159 |
| 138 | 165 |
Extra Grip Rough-Top Rubber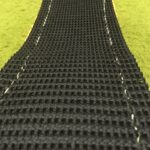 Our glass slings are also sewn with our rough topped rubber on the inside of the sling for maximum grip on your glass sheets to avoid accidents, as well as maximum durability made for hard-working construction environments.
Protective Cargo Sleeving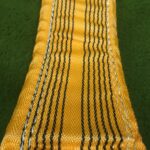 We can also equip the glass slings with a Cargo sleeve wear pad for extra protection against wear and tear to greatly increase the life expectancy of your glass handling sling. This cargo sleeving is specially designed for use in the construction industry and protects against the repeated friction that comes with daily use.
Angled Side Straps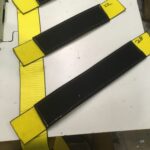 Often it is the little things that go into our glass slings that make the biggest difference to our customers. For instance, all our custom glass slings come with angled side straps (unless you ask otherwise) made to perfectly cradle your glass sheets. these angles make the load much more secure and easier to load and unload.
The Finished Product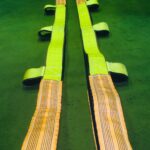 The end product is an expertly crafted and precisely made set of glass handling slings that will hug your glass sheets safely and securely. The Rough top rubber and the protective cargo sleeving ensure a long life for the sling. Plus if you need the same set of slings in the future we will have the perfect measurements for your company documented making reorders a breeze.