Tie Down Straps and Hardware
Toronto Tie Down Strap and Hardware Manufacturing stop
Cable Craft is the manufacturer of tie down straps and hardware in Toronto.
From the manufacturing line, all tie down straps, hardware and additional equipment is testing and sold clients in need of such products.
Tie down straps are primarily used to hold down cargo or heavy equipment during transportation. These straps act as a web for the equipment and are held in place by the tie down hardware.
The tie down hardware assists in turning the tie down strap into a protective web. The tie down hardware materials consist of fasteners, end fittings and buckles. Betsafe Casino on varma ja toimiva valinta, joka ei yllata hyvassa tai pahassa..
In our Toronto facility, we offer a large assortment of tie down straps and hardware for our clients.
For tie down straps, we offer:
* Flat Bed Strap C/W Tail Chain
* Flat Bed Strap C/W Flat Hook
* Flat Bed Strap C/W Wire Hook
* Flat Bed Strap C/W Delta Ring
* Ratchet Assembly C/W Wire Hooks
* Ratchet Assembly C/W Tail Chains
* Ratchet Assembly C/W Flat Hooks
* Ratchet Assembly C/W Delta Rings
* Logistic Ratchet Strap C/W E Fitting (Work loading limit – 1,000 lbs)
* Logistic Ratchet Strap C/W F Fitting (Work loading limit – 500 lbs)
* Logistic Ratchet Strap C/W ¼ Wire Hook (Work loading limit – 500 lbs)
* Cluster Hook V Bridle (Work loading limit – 4,700 lbs)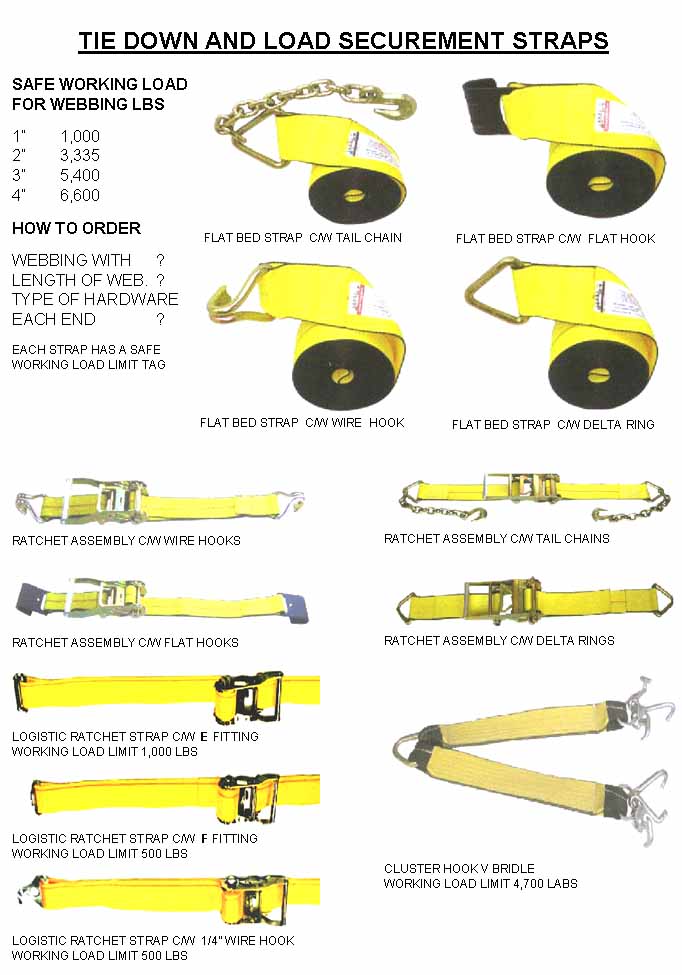 For tie down hardware, we offer:
* Wire hook
* Flat hook
* 15″ J-Hook
* Cluster RTJ Hook
* Tail Chain
* F Fitting
* E Fitting
* A Fitting
* 1″ Vinyl
* 2″ Flat Delta Ring
* Delta Ring
* D Ring
* Ratchet
* Overcenter Buckle
* Cam Buckle
* Protective Sleeve
* E Track
* F Track
* Combination Winch Bar